GE-Force
Soil cultivators
Description
The perfect preparation for a profitable harvest
A good start is the perfect base for an excellent end result. A good soil preparation leads to optimal growth conditions and a good, high-quality product. In short: the AVR GE-Force is an investment that reimburses itself by maximizing your profits.
The GE-Force is designed for use with high-powered tractors. The center gearboxes are able to manage 250 to 380 hp of power.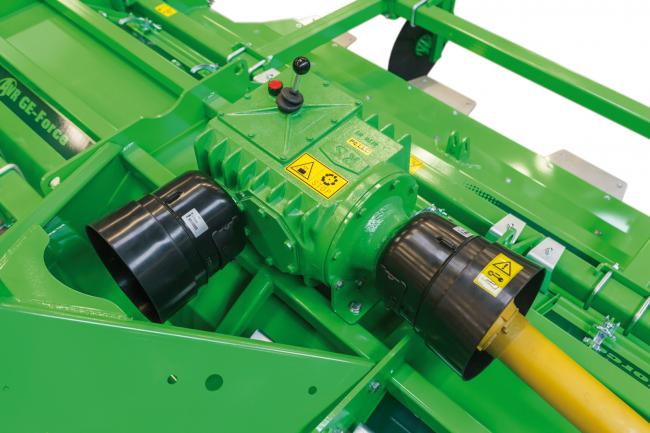 Robust drive line
The GE-Force is equipped with a simple one speed gearbox that directly transmits the incoming torque to the side drive. The standard gearbox can handle up to 250 hp of power. A 380 hp gearbox is also available as an optional extra; in addition a 3 speed gearbox is also available which offers greater flexibility with the rotor speeds for use in varied soil types. Since the rpm is only reduced in side drive, the forces that act on the intermediate shafts and bearings are limited, leading to far less component wear and tear.
Specification item
Strengths
Strengths information
A vibrating hood (mounted in springs) to prevent earth to stick to the inner hood.
In case of the full field cultivator there are clamps with tines to mount on the rotor to complete the interrow rotor to the full field version.
For very stony soils, you can choose for spikes in stead of tines on the rotor.
The cultivator is also available with 6 tines on the rotor iso 4. The same crumbling result is possible with less rpm. So the power demand and as a consequence the fuel consumption show a significant reduction, a striking reduction of 33% is proven in practice.
Specification item
Models
Farmer 2x90
HD - fixed frame 4x75
HD - fixed frame 4x80
HD - fixed frame 4x85
HD - fixed frame 4x90
HD - fixed frame 6x75 DD
HD - foldable 6x90
HD - foldable 8x75
Working width interrow cultivator
1968
3088
3348
3348
3800
4500
5400
6088
Number of tines interrow cultivator
44
72
84
84
84
104
124
124
Working width full field
3088
3348
3548
3800
4500
Number of tines full field
128
136
136
164
232
Weight (kg)
1,250
1,650
1,750
1,850
2,000
2,500
2,750
3,800
Required kW/hp (min.) interrow cultivator
44/60
66/90
88/120
88/120
88/120
102/140
115/160
115/160
Required kW/hp (min.) full field
90/120
100/130
110/150
110/150
115/160
Specification item
Standard equipment
Standard equipment information
One-speed sprocket gearbox 1,000 rpm, max. 250 hp
Intermediate shaft with driving shaft
PTO drive shaft with shear bolt
2 or 4 steel depth control wheels with screw/spindle adjustment
Spring-mounted cover with inspection hatches
Hardened tine mounts welded to the rotor
Side drive with sprockets
Standard for row cultivator: Multifunctional ridging hood
Standard for full width version: preparation set for seed bed (guiding plate and crumbling roller)
Specification item
Options
Options information
Two-sided drive
Hook tines with Widia coating
Automatic ridging hood control
High-speed components for ridging hood
ASI (Automatic Steering Mechanism)
Tines in ridge plate
Hill stabilizer
Hill discs
6 hooks on circumference instead of 4
Markers: mechanical or hydraulic
Lighting
Depth control wheels with pneumatic tires instead of standard steel
Rain soil opener
Spray-track kit: mechanical or hydraulic
Hydraulic system for cover cleaning
Full field options
Carrot set: 24 extra hooks in the middle of the ridge
Pneumatic tyres (in stead of standard)
Depth control wheel behind cultivator
Ridge roller 4x75 or 6x50